27 April, 2020
This is not just any map... this is an M&S map of community support!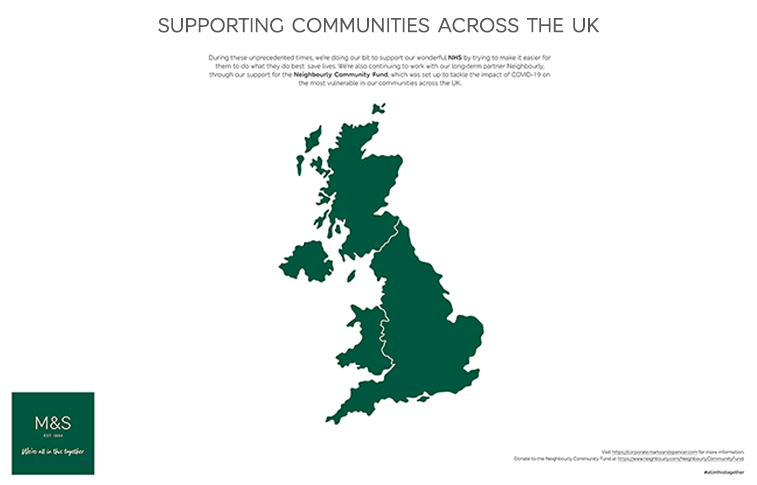 The heroic efforts of the NHS are constantly acknowledged and praised for saving lives and protecting the public. It is crucial that we all work together to help the NHS and our communities, and we've been working hard to do our bit to ensure we support them across the UK. Today, we're proud to share what we're doing.
More help for our NHS across the UK with patient care packs
We're extending our donations of much needed patient packs, containing a t-shirt, jumper, joggers, underwear and socks, to more of the Nightingale hospitals across the UK. We're now helping to provide patients with comfort and dignity when they get discharged from these hospitals including NHS Nightingale Hospital Belfast, NHS Louisa Jordan Hospital and NHS Nightingale Hospital Birmingham.
More help for the most vulnerable through our work with Neighbourly
More than 150,000 people are now benefitting from the 622 UK cases and groups accepted onto Neighbourly's new funding scheme through the Neighbourly Community Fund, which invited applications from all existing charity partners.
Here are some of the communities that we've helped through our support for the Neighbourly COVID-19 fund:
1. In Inverness, more than 17,000 people are being helped by the 70 Scottish causes and groups accepted onto the scheme, including Inverness Foodstuff – our M&S Inverness existing partner.
2. In Cardiff, more than 8,000 people are benefitting from the 32 Welsh causes and groups accepted onto the scheme. Those who have secured funding in Wales include Moorland Star, which is already partnered with our M&S Cardiff and M&S Cardiff Avenue stores through our food surplus redistribution scheme.
Eliza, from Moorland Star said: "We've had to close our building due to Covid-19 and are unable to serve lunch to our pensioners. However, we are now operating a mobile lunch service with extra produce and are providing emotional support, daily contact and fun activities. We are determined to keep the project going for as long as we need to, and the £400 grant will help us to do this."
3. Our M&S Kenton Bar store's existing food surplus redistribution partner, Newcastle West End Food Bank, prepare food parcels for people in the West End of Newcastle who are struggling to put food on the table. Last year the charity provided food for over 44,000 people.
We are all in this together.
Keep up with the latest updates to our COVID-19 response here.